Hi friends!  I'm excited to be bringing you this week's Papertrey Ink Design Team Tips!
One of the things that I get asked often about is vellum.  I loooooove to use vellum on my cards!  It truly is such a magical paper!  I especially love Papertrey's heavyweight vellum!  There are so many things that you can use vellum for on your projects, but my favorites are:  use it to soften a background, emboss a sentiment  on it, and for focal images (especially floral ones).
On my card today, I used vellum in two ways.  I added a larger piece on top of the patterned paper (from Bitty Big: Pink Posey).  This softens the background and allows the focal image to stand out a bit more.  I also used it for the focal image.  I love the soft, romantic look it gives!


Probably the most difficult thing about using vellum is attaching it to your card without  letting any adhesive show through.  You can avoid this by finding alternative ways to attach it.  Here, I added just a bit of stitching.  I also added glue underneath the focal image.  I have a photo below that shows you the different places you can add some liquid adhesive so that it won't show through.


For the focal image, I embossed the large flower onto vellum using white detail embossing powder.  To add color to the flower, I sponged on some ink on the back side.  I wanted to pop the flower up for some extra dimension.  There isn't a way to hid dimensional foam so I added a plain white die cut underneath.



When I want to use glue to adhere vellum to my card I look for things that I can hide the glue under.  Here, I added some liquid glue under the die cut sentiment, the sequins (these are great for hiding glue!), and underneath the more solid parts of the flower.
During the release, Lizzie shared another genius way of hiding adhesive on vellum!  She added a frame of glitter and then hid the glue underneath the glitter!  You can see her card HERE.
I wanted to share another vellum tip with you.  (I will have photos a bit later.  We are recovering from stomach-flu-mageddon here so I'm a little behind on taking photos.). When I emboss on vellum (which is often) I have found that I get better results when I heat the embossing powder from underneath the vellum.  When heating the embossing powder directly, it tends to blow off, leaving patchy coverage).  Not only does the powder not blow off of the stamped image when heating from underneath, but the embossing is crisper and shinier!
Edited to add photos!
Here is the comparison of the same sentiment embossed onto vellum.  The top image is heat embossed from the top.  The bottom image is heat embossed from underneath.  Note:  I kept these photos very large, so you can click on them for a closer look.
As you can see from this photo, the embossing looks rough and pitted.  You can also see a few stray flecks of embossing powder that flew off during the heating process near the "H".
I was worried that you weren't going to be able to see the difference from photos alone, but you can definitely see how much better this image looks!  The embossing looks smooth, raised (as embossing should), and the edges are cleaner.  Also, there were no stray flecks that flew off during the embossing so the area around the sentiment is clean.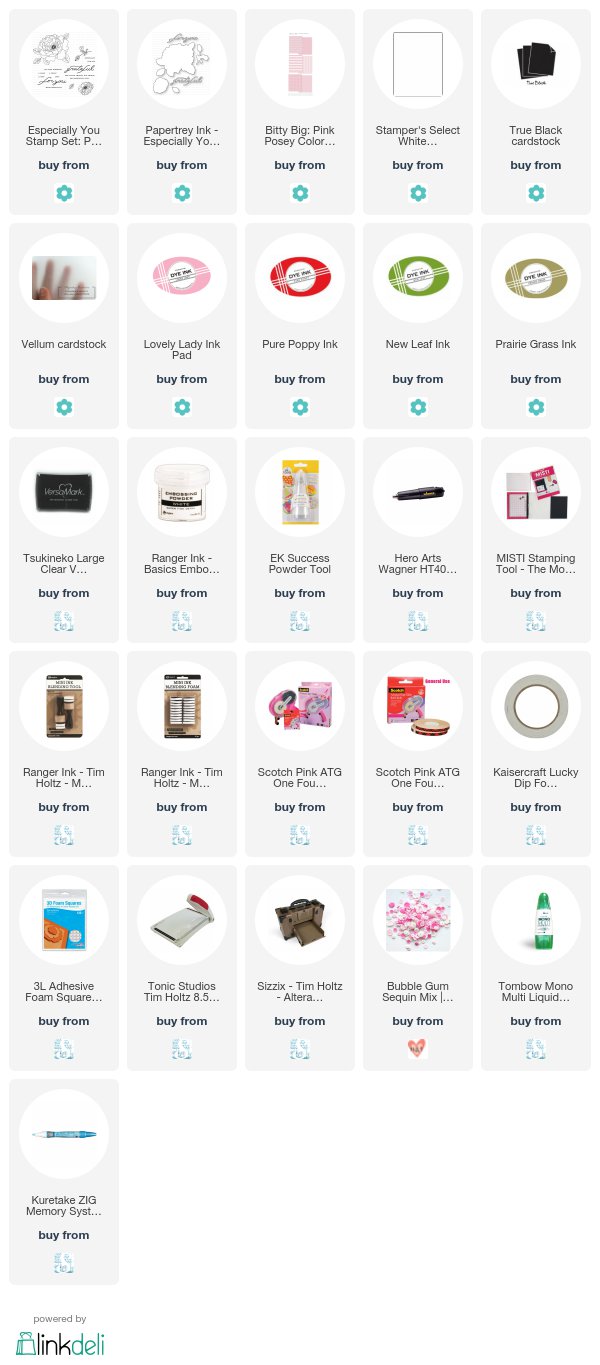 Thanks so much for joining me here today!
Laurie