Hi friends!  I'm excited to be hopping along with the Gina K. Designs design team today!  We are sharing projects created with the brand new Stamp-n-Foil System!  I'm sure you've seen some of the photos that were shared from this year's Creativation show featuring these new products.  They are SO inventive and fun!  They combine stamping, die cutting, and foiling and the end result is stunning!
There is an amazing prize up for grabs!!  Just leave a comment on each of the design team blogs to be entered to win a $50 Gina K. Designs gift certificate!
 If you are hopping along with us, you should have arrived here from Karen's blog.  If you are just joining us, make sure to start back at Gina's blog and she will get you started off right!  :-)
The three new Stamp-n-Foil collections are called Butterfly Kisses, Time to Celebrate, and Where Flowers Bloom.
In addition to the Stamp-n-Foil collections there are also three new Glitter Foils as well as three new Foil-Mates Backgrounds!
My first card features the new Where Flowers Bloom Stamp-n-Foil.  I have a thing (well, more like slight obsession) for pretty leaves and these leaves make my knees go weak!  They are gorgeous on their own, but add foil to the details and my heart goes all aflutter! 
This is such a simple system!  You die cut the images that you want to use from the included detail sheets.  Then you stamp to add color using the inks of your choice.  Then..the fun part!  You run it through your laminator or foil machine with your foils of choice!  Seriously, this is addictive!
It's so hard for me to choose a favorite, but the new Butterfly Kisses Stamp-n-Foil collection just might be it!  Butterflies and foil...I mean, what could be better?  One of the coolest things about this system is that the stamps and dies can be used with or without the foil!  If you just want to stamp and die cut the images, both the bold and detail parts of each image are included!
I think that birthday cards should always have some Glitter-Foils on them, don't you?  I added a foiled piece of the new Where's the Party Foil-Mates Background.  All of the new Foil-Mates Backgrounds and Stamp-n-Foil systems work with the previously released ThermOWeb products making them even more versatile!
I just can't get enough of this shine and sparkle!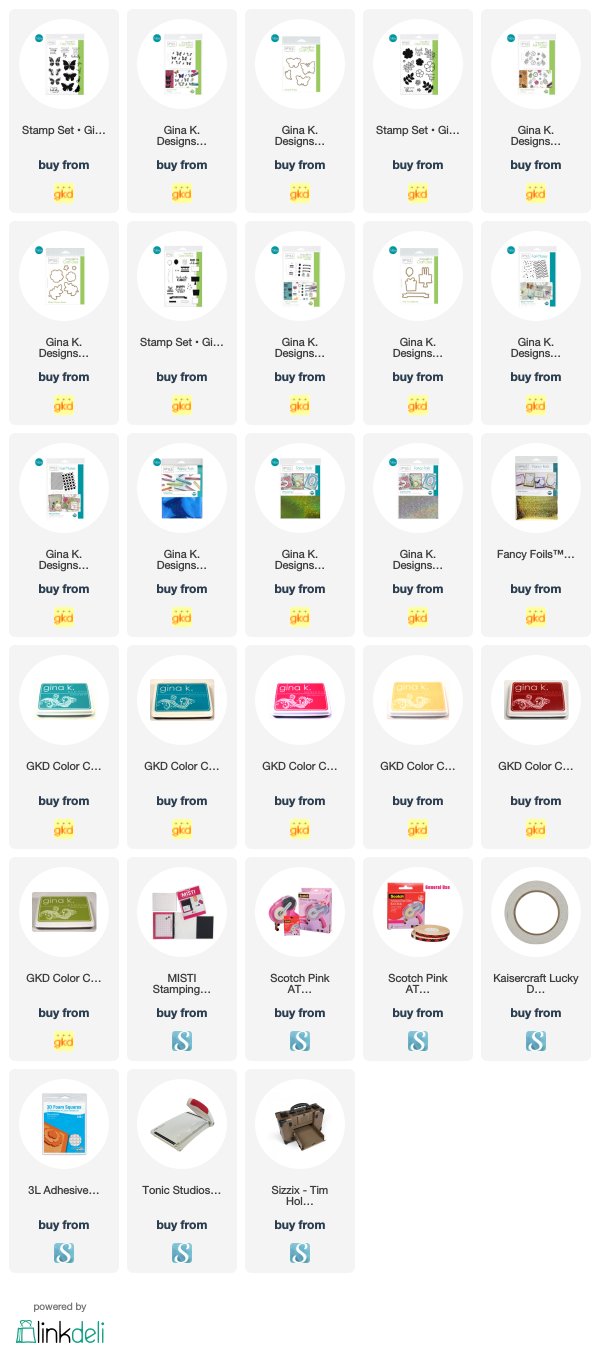 If you want to see these goodies in action, make sure to check out Gina's Post.  She has a great video showing how easy these are to create with!
Ready for more inspiration?  Here is the list of design team members hopping...
Gina K.
Beth Silaika
Cathy Tidwell
Donna Idlet
Karen Hightower
Laurie Schmidlin (you are here)
Lisa Hetrick
Melanie Muenchinger
Rema Deleeuw
Sheri Gilson
Susie Moore
Theresa Momber
Thanks so much for stopping by!
Hugs,
Laurie